How to Take Over the Top Position on Amazon in Your Category
September 07, 2023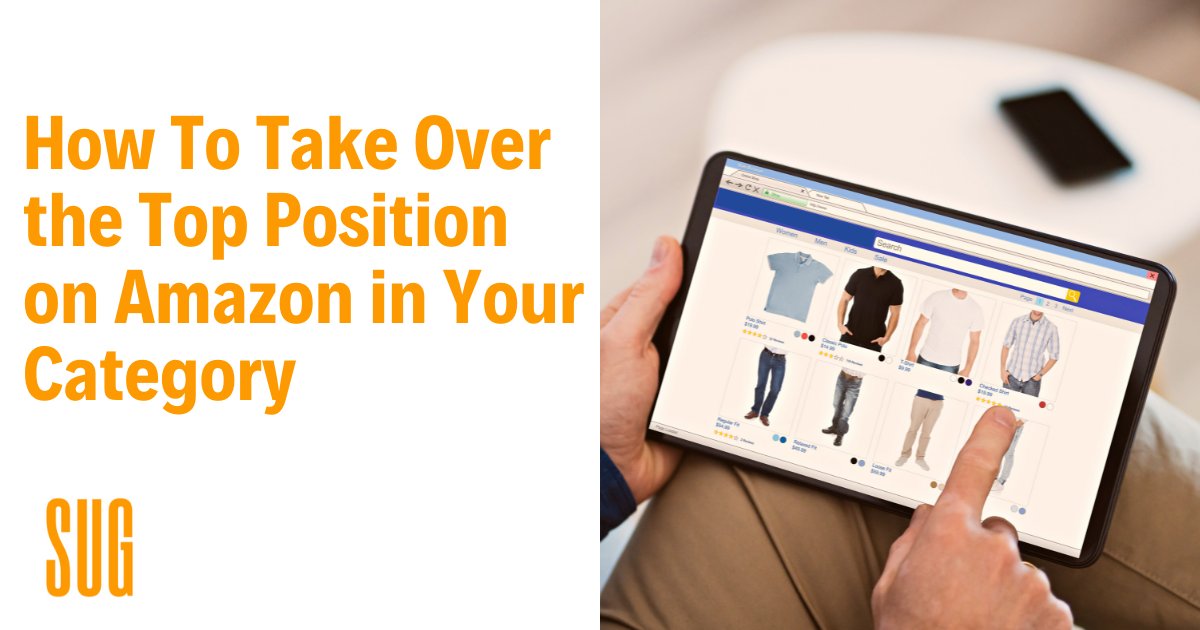 Amazon's a9 algorithm is their product ranking algorithm. This decides which product listings to show under a specific search term. 
Many cite this algorithm as the key to Amazon's success and why it's so easy for Amazon shoppers to find a product they want to buy. 
Amazon SEO and Ranking Opportunities
Amazon created their SEO platform through the a9 algorithm to make navigating the amazon search engine easier. 
Amazon gives each listing a sales rank, but there are many other ranking and badge opportunities to help you stand out on Amazon. These include: 
Best Seller: This is a badge given to the #1 selling product in a featured category with at least 100 products

New Releases: This is a badge for the #1 selling new products in a featured category. The amount of time that a product can be ranked as 'new' depends on the category.

Amazon's Choice: Amazon will choose a few products to feature as an 'Amazon's Choice' product under each featured category. These must be products available through Amazon Prime that can be shipped immediately. Amazon also looks at your overall account health, including number of reviews and returns. 

Special Programs: There are many special programs that your products can be featured under if they meet the criteria or you participate in one of Amazon's small business programs. These include Small & Medium businesses, Climate Pledge Friendly
Amazon Product Ranking Factors
Amazon ranks each product listing with an 'Amazon Sales Rank' based on a number of factors, including: 
Number of clicks on a search term 

Amount of sales and revenue

Overall account health 

Number and quality of reviews 
There is no specific formula on how to increase your Amazon ranking, but here are some tips we follow at Straight Up Growth. 
How to Get Your Product on The First Page of Amazon
Your Amazon ranking strategy should have a combination of advertising and organic components. 
Before running any campaigns, make sure to do enough keyword research to understand which are the best keywords to use for your specific growth goals. We recommend using long tail keywords with a high visibility rate and lower CPC. There are many tools to help with this research, including Amazon's Brand Analytics page. 
It's also smart to include those keywords consistently in your listing, including in the title, product description, bullet points, and A+ content.
Your organic ranking strategy should be heavily focused on generating positive reviews from existing customers. This will help improve your overall account health, and can help you earn some of the other ranking badges, such as Amazon's Choice. 
SUG Case Study
At Straight Up Growth, we've helped brands grow and excel to the 'Best Seller' rank in multiple categories. 
We helped a health brand launch two new products in a highly competitive category, taking them from 0 to $1M in revenue in 4 months. 
Our secret sauce? 
Utilizing organic ranking strategies through a focus on generating reviews. Many of their competitors already had thousands of reviews. In those 4 months, we generated over 2,000 reviews through our new customer acquisition. 
Want us to help you explode your Amazon sales? Find out more below!
Tips for Improving Your Amazon Ranking
Here are some simple tips on how to rank higher on Amazon: 
Be very specific with your keyword strategy, and use long tail keywords for easier ranking. 

Utilize off Amazon customers to direct traffic to your listings, to help improve your conversion and SEO

Encourage your clients to leave you a review on Amazon. This will help with your ranking and overall account health 

Keep your keywords consistent across your advertising and product descriptions

Continue to spend on terms with a higher conversion rate to accelerate your growth to higher on page 1
Amazon Ranking FAQs
What is Amazon SEO?
Amazon's SEO is their a9 ranking algorithm, which ranks where products will be displayed under a specific search term.
What is a good rank on Amazon?
This depends on how long you've been selling on Amazon for. Since 70% of all Amazon purchases happen on page 1 of a search, we recommend focusing on consistently ranking on page 1 to improve your visibility.
How does Amazon rank the top page?
Amazon ranks the top page by looking at how many clicks, sales, and conversions each product listing is getting under a specific search result. 
How do you move up in rank on Amazon?
Moving up in rank on Amazon is highly based on your keyword strategy and visibility under your chosen keywords. We recommend using a keyword research tool to find the right keywords for your campaigns. 
How long does it take to rank on Amazon?
It will take at least a few months to see a significant change in your ranking or any other results from a change in your Amazon advertising strategy.
What is Amazon Best Seller Rank?
Amazon's 'Best Seller' rank is a ranking given to one of the 'best selling' items in a specific category. This is determined by a number of factors, including search volume, number of sales, revenue, number and quality of reviews, and conversion rate. As an Amazon Seller, this is a huge accomplishment and will help you dominate in your category.