How to do Keyword Research for Amazon PPC
May 26, 2022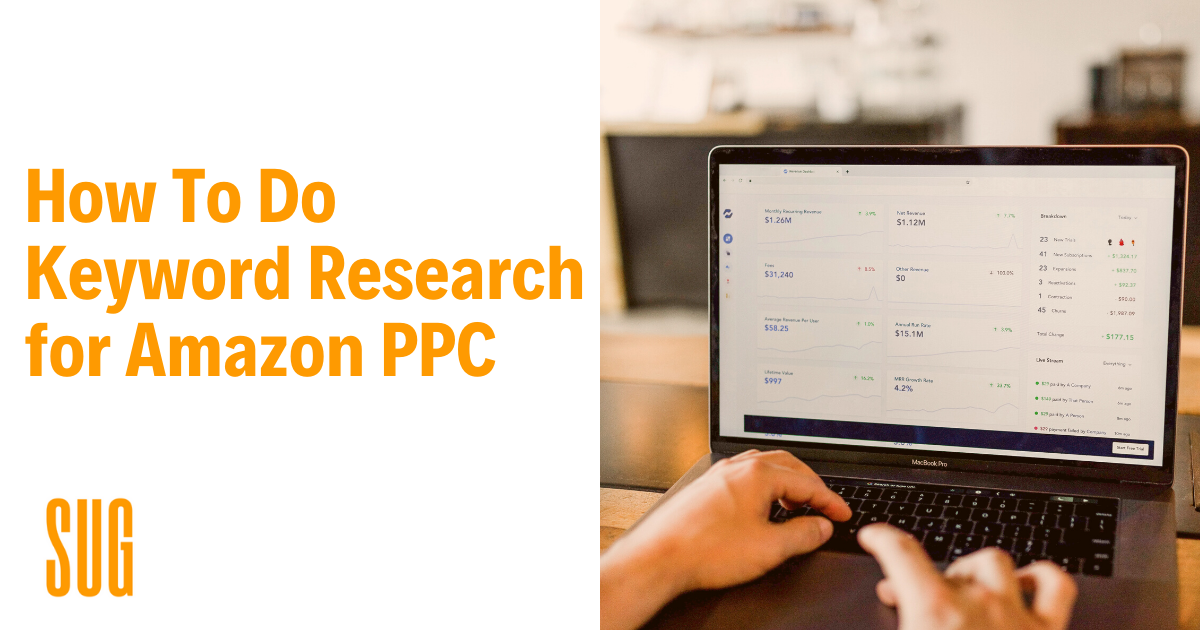 As an Amazon Seller, dominating some specific keywords is already an important part of your Amazon PPC optimization strategy. 
Keywords are the words customers use to search for your product. You want your products to be associated with the right keywords, to help your Amazon product be shown to the right audience. This is kind of like Amazon's SEO! 
There are many tools and software available to help choose the right keywords for your Amazon products. Let's dive deeper into what your keyword strategy should consist of.    
The 3 Keyword Match Types Used in Amazon PPC
Amazon typically does 3 types of keyword match types in PPC: broad, phrase, and exact. These are used by Amazon advertising when deciding which search terms for your sponsored products to appear under.
Broad
match types will allow you to appear under a match of your specific keywords, along with other similar keywords. These keywords can be placed in any order. This is a great way for new brands to expand their reach across Amazon. 
Phrase
match types will show your ad when someone searches for your specific keyword. This includes when the keyword is included in a longer list of keywords. Although, it must match the original phrase in the same order as its originally written. 
Exact
match types will advertise under searches that only include an exact match of the original keyword. If it includes any other words not included in the specified keyword, it will not count. This helps you dominate under a specific keyword.
Let's jump into a Straight Up Growth Case Study to understand why integrating each match type into your strategy is key:   
A SUG Case Study - Converting to Exact Match Types
One of our nutraceutical brands was dominating in the health category, which had relatively steady demand – leading to an increasing CPC, lowering ROAS, and aggressive launch and advertising strategies from competitors. 
At SUG, our three key objectives were to leverage Amazon's lower customer acquisition costs, spend smarter by reducing wasted ad spend, and to grow sales with predictable growth. 
By reducing wasted ad spend, we were converting majority of their spend from research to exact match types, where we could begin dominating specific search terms. 
This led to a 61% improvement in ad performance, with an $8,000,000 increase in incremental sales last year, with 125,000 net new customers acquired (only on Amazon)! 
Hear more about Straight Up Growth and other case studies below: 
How to do Keyword Research for Amazon PPC
Amazon's Brand Analytics page is one of the best Amazon keyword research tools available. Since this is all data being reported and shared directly by Amazon, you know it's accurate information.
Other Amazon PPC tools we like are JungleScout and Helium 10 for keyword research. The tools you choose to utilize should be specific to your brand's goals, as well as budget.  
Why Amazon Keyword Research Is Important
Keyword research is vital to your Amazon PPC strategy, as it allows you to reach your existing customers and help attract new customers. 
Keep these key metrics in mind: 
65% of product searches happen on Amazon
We see Amazon as the largest search engine in the world! And where does that search begin? With keywords!
69% of customer searches are unbranded 
This is a great opportunity to steal some market share and acquire new customers!
70% of purchases happen on page 1 of Amazon 
This is why keyword research is so important. Once you begin dominating your keywords and are constantly showing up on page 1, it could lead to more sales! 
How to Find the Best Keywords for PPC
We start finding keyword ideas by starting with a seed keyword. This is the most basic search term customers may use to find your product. Think really simple, like 'protein bar' or 'body scrub'. These are most likely already being used in your other content; like your description, bullet points, and social media captions. 
Create a short list of seed keywords that are directly related to your products. These are great to help explore other keyword options, but they shouldn't be the terms in the forefront of your strategy. 
Seed keywords will be attached in other long tail keywords, such as 'vanilla protein bar'. 
These long tail keywords are what you want to use in your keyword strategy. You should choose these keywords by looking at their Amazon keyword ranking and search volume. 
A keywords volume looks at how often this term is searched and its ranking compares that search volume to other keywords on Amazon. 
Finding keywords that match your product and description, with a high ranking and search volume, and a low CPC are definitely some to keep in mind for your keyword strategies.  
Which Keyword Match Type to Use in Your Amazon PPC Campaign
Which Amazon PPC campaign structure  you should use in your Amazon Ad campaigns depends on your goals, budget, and how long you've been selling on Amazon for. 
A newer brand with a smaller budget may start with broad match types to expand their presence and audience on Amazon, while a more seasoned brand may be spending a majority of their budget on a few exact match types to dominate on their strongest keywords.   
Amazon PPC Keyword Research FAQs
Is keyword research necessary for PPC?
At least some keyword research is necessary for a strong Amazon PPC strategy. There are plenty of free tools out there to do a quick search on volume and ranking of keywords. 
How many keywords should you add to Amazon PPC?
This all depends on your budget and the average CPC of your keywords. Do some math to see how much it would cost at your current CPC to hit your desired clickthrough rate.